What is DynamicDirectory ?
Self Service: Dynamic Directory is a web-based self service solution for Active Directory, which gives your users the opportunity to modify its own account information.
Your HelpDesk / Support department spends relatively much time on administering users contact information. Especially if your company uses AD as the base for other systems such as telephone switching, HR, and SharePoint, data extraction, etc. And often, these information comes from different systems.
Using DynamicDirectory you can reduce the load in HelpDesk and let your users manage their own information.
Through an administrative backend you can control which fields are visible to the user, and what this may be edit.
Delegation: You can also assign rights to individual users so they can modify other users' contact information. It may be useful to give selected super users, and secretaries that option to relieve your HelpDesk operation further.
Search Engine: DynamicDirectory also gives you a search engine similar to the Yellow Pages so your users can search for other users in your company.
It is possible to search free text, but you can also look for users based on function or department. This can be handy if you're looking for a person whose name you do not know, but you may know in which department the person is located.
Platform: Dynamic Directory is based. NET 3.5 and installed on an IIS serves.
The Addressebook
When you have to find a user you can either search using free text, or you can browse through a hierarchical decomposition, or a combination thereof.
If, for example you are looking for a person with a specific function, but do not have a name then you can choose to see all users in a particular department. You can break it down further by specific titles.
Or you may have a name. So you can make a search on this. Search results will be divided into sections, and titles.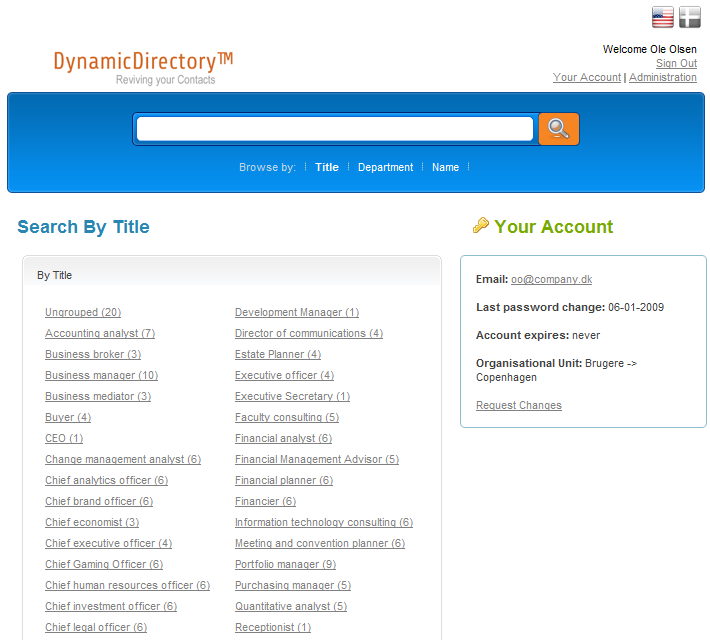 Account Editing
Users can edit their own contact information.
From a back-end administrators can control which fields the user can be allowed to edit.
Fields can be visible, but locked, so the user can see what is on record without being able to edit that particular information.
Fields can be either free text or drop-down lists. It allows the company to manage a fixed list of specific titles and department names that the the user must choose from