Platform
DynamicDirectory is a web based self service system for your AD. It is built on ASP.NET.
It runs on Windows Server
2003 32-bit/64-bit, with .NET Framework 3.5
2008 32-bit/64-bit, with .NET Framework 3.5
2008-R2 32-bit/64-bit, with .NET Framework 3.5
2012 64-bit, with .NET Framework 3.5 (Feature)
2012-R2 64-bit, with .NET Framework 3.5 (Feature)
The Address Book
From front-end the users can search by free text or they can browse through the contacts they are looking for, either by department or title.
From the back-end, you can specify which fields in AD these details are stored. It may be that you actually have them in other fields than the ones AD is designed for.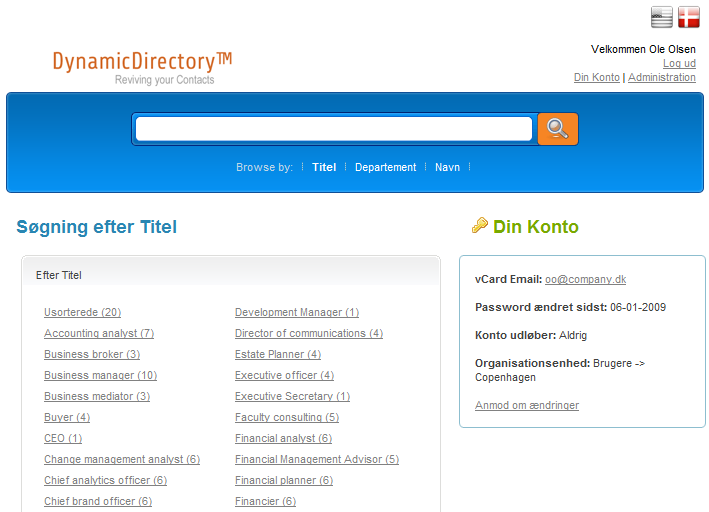 Editing User Accounts
The product allows you to provide users with access to approx. 72 fields in AD. It's more than you have access to through the "Users & Computers" MMC snap-in.
That is especially interesting if you already integrate other systems to your AD.
You can control which fields your users have access to, and which fields are visible (but not editable).
Often some of your AD fields must obey certain company standards. This is particularly true for titles and department names.
From the back-end you can set fields to be drop-downs instead of a free text fields. This makes it much easier to ensure that your users comply with your stardards.
You will find functionality to automatically scan your AD and find all the titles used today. So with a few clicks you can create drop-down lists based on your existing standards. You avoid having to enter hundreds of titles to these lists.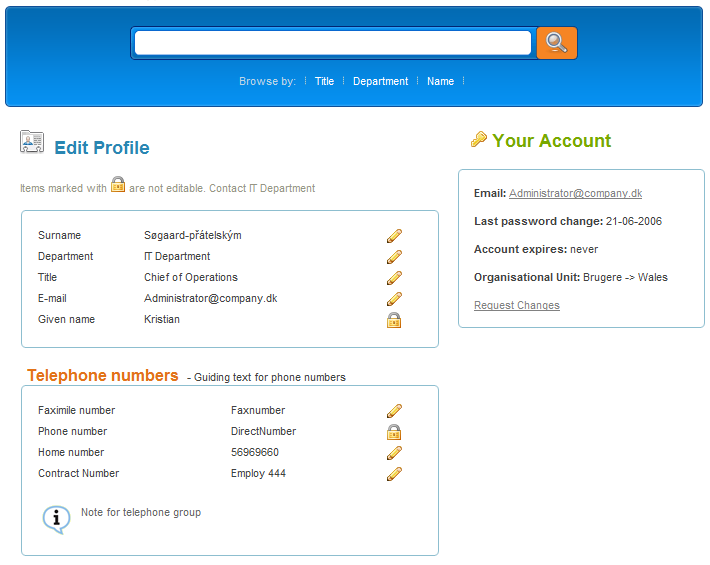 Editor Control & Relabling
From the back-end you can design how the front-end should look like when users edit their own information. You can group information in a logical manner and you can control the field labels.
Frequently administrators use fields in AD for other purposes than Microsoft entended. Eg. one can easily have employees home number in the "other Phone" field, or use the "Display Name" in the email signature, instead of the fields "First Name" and "Last Name" because they form the basis for the email address generation.
And it may be difficult for employees to remember which fields to use for particular data types.
Therefore you are provided with complete controll over the front-end design and field labeling. You can then rename any AD field. E.g. rename the "Home Phone Number" to "Next of Kind Phone".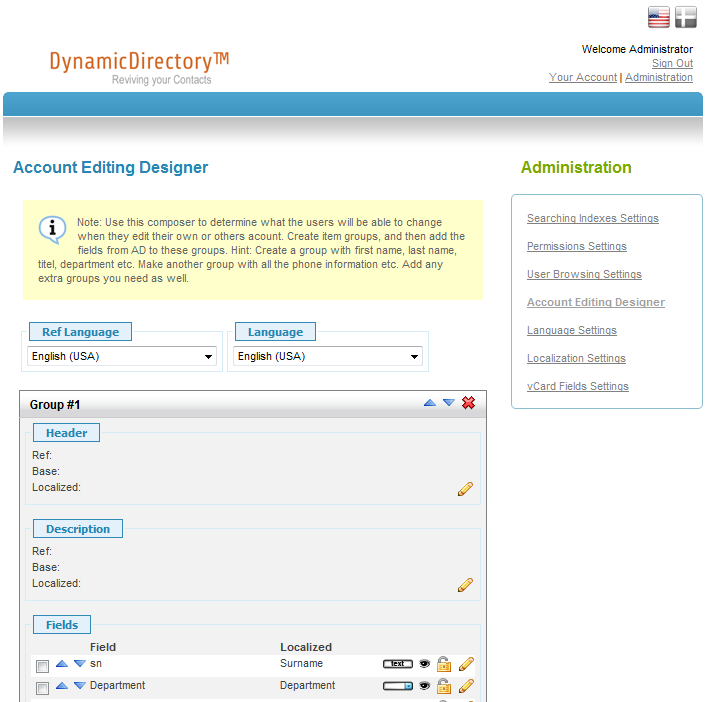 Simple Delegation
It is possible to delegate rights to ordinary users as like Secretaries / Super Users / HR-staff so they can maintain your Active Directory.
The users who have been delegated these rights, will see an extra editing icon when looking at other users.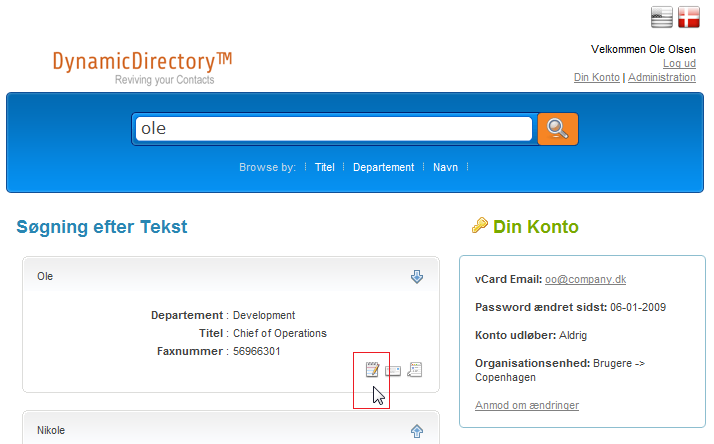 From the back-end you manage which users can edit users in specific groups and / or OU's.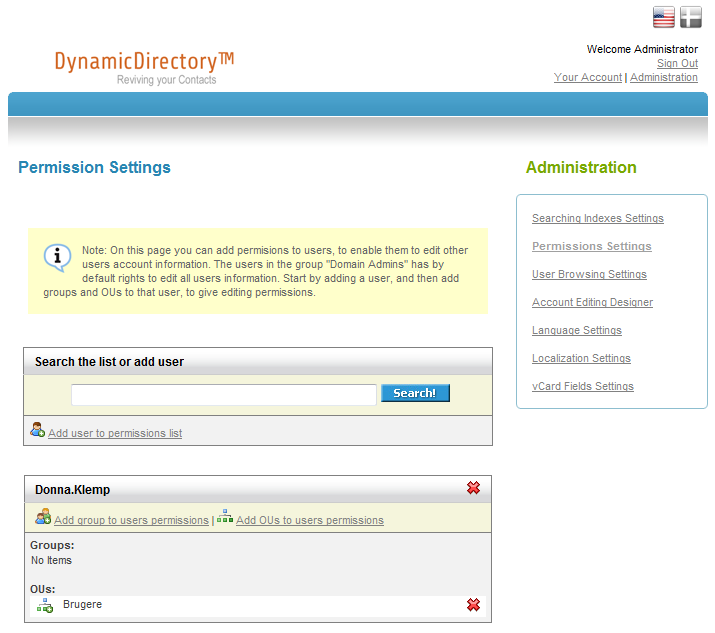 Search Index
You can restrict DynamicDirectory to work only with certain OU'er. First and foremost it is an advantage that search results do not include all of your administrative accounts, as well as service accounts.
If you use the product in an AD that spans several countries, it might also be an advantage if the search only searches the users seated in your country.
From the back-end you may choose the OU'er be included in the search engine index.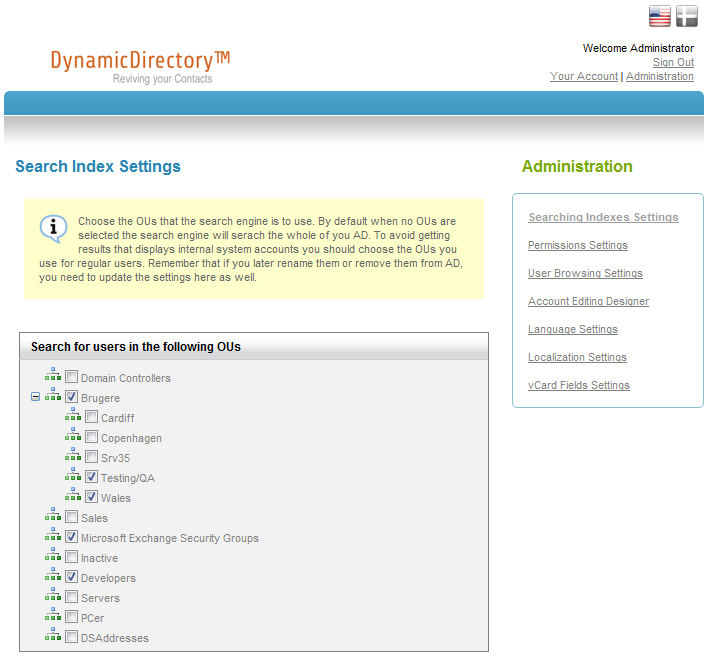 Language Editing
We support all Western languages. However, the product does not come with translations of all languages preloaded. Release 2.0.2 comes with translations of Danish, Swedish and English.
To quickly expand on the language base we have provided a language module, where you can create new language, and do translations as you see fit.
A language consists of approx. 150 texts. So it should take approx. ½ -1 hour to create a new language.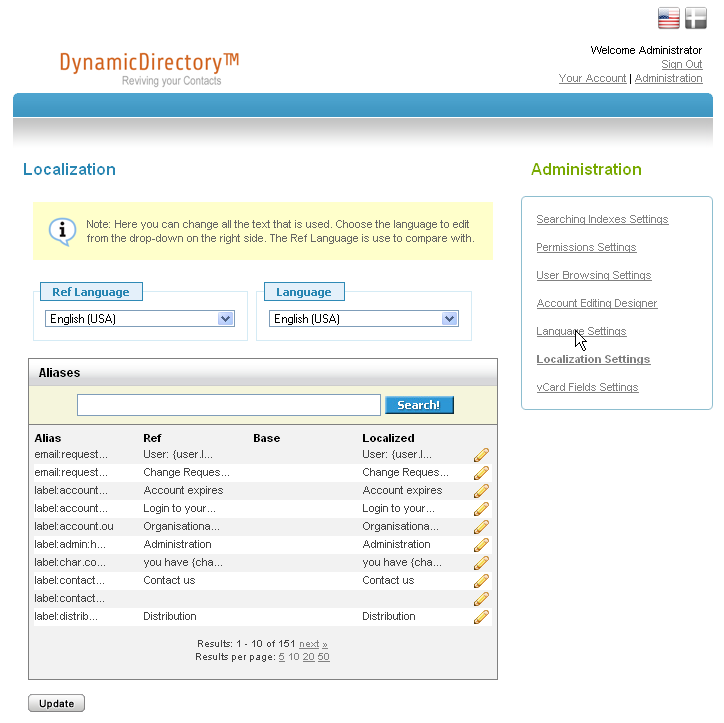 More Technical Details
If you need more details you can read our online manual