What is it
DynamicSignature Transport  Agent or DSTA is a component used to add signatures to mails from various device types, mostly phones and handheld device.
The problem that all these non-windows based devices have in common is that they are not joined to a windows domain and do not process login scripts or group policies. And so they are difficult to deploy signatures to. The solution is to use a transport agent residing on the mail server. A transport agent can pickup on mails sent from these devices and add a signature after it has been sent by the device.
Who is it for
DSTA can be used by customers with on-premises Exchange installations, and customers with cloud/hosted Exchange if those are dedicated server - not shared installations. This is because the product is installed on the Exchange server, and shared installations do not allow for this.
How does it work
The actors in the messaging industry has not adopted a standard for identifying the sending device type. So when a mail arrives at the mail server, there is no certain way of determining if it came from a mobile device. The industry standard method that has evolved is to use the generic signatures that most devices is born with. E.g. "sent from my iPhone". These are then substituted with real signatures by the transport agent.

Requirement
DS Transport Agent supports Exchange 2013 and 2016. Access to installing software on your platform of choice is required. So if you are on Office365 shared platform, you cannot use this product.
It relies on DynamicSignature Manager to create and test signature templates. In DSM 6.3.5 there is now a package exporter for DSTA.
Management
DSTA has a simple and intuitive management utilty. Keep in mind that the templates are designed and tested using DS-Manager.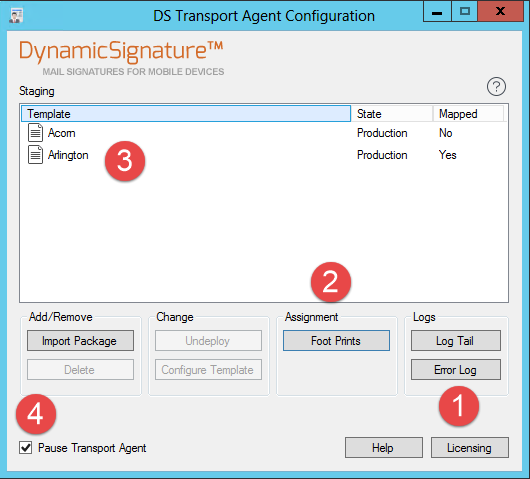 1. License handling
2. Foot print to signature mapping
3. Secure template check-in
4. Agent activation